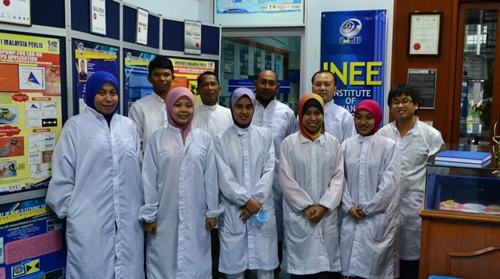 Institut Kejuruteraan Nano Elektronik (INEE) Universiti Malaysia Perlis (UniMAP) menjalin kerjasama kepakaran dengan Institut Penyelidikan dan Kemajuan Pertanian Malaysia (MARDI) bagi menjalankan beberapa bidang penyelidikan.
Berikutan itu, UniMAP secara berasingan baru-baru ini menerima dua kumpulan penyelidik dari institut tersebut bagi menyertai Bengkel Teori dan Amali Rekabentuk dan Pembuatan Cip Nano untuk Penderia Makanan.
Menurut Pengarah INEE, Prof. Dr. Uda Hashim, bengkel tersebut disertai sembilan pegawai MARDI yang didedahkan menerusi pemahaman, kemahiran teknikal dan amali berkaitan rekabentuk dan pembuatan nano cip untuk penderia E. Coli, salmonella dan arsenic.
"Para peserta diajar secara praktikal untuk mengendali sendiri peralatan dan perkakas untuk mereka bentuk, pembuatan, pencirian, pengukuran dan validasi penderia," katanya.
Selain itu, bengkel tersebut membantu penyelidik MARDI menyiapkan projek penyelidikan mereka yang bertajuk Development of Nano-photonic sensor for detection of microbes and toxin in foods yang berfokuskan pada bidang kemahiran nano teknologi.
Bengkel tersebut masing-masing mengambil masa lima dan empat hari untuk memberikan pendedahan, pemahaman dan kemahiran teknikal secara teori dan praktikal khusus kepada para penyelidik dari MARDI.
Ketua Projek penyelidikan tersebut, Ahmad Sudin, 56, memberitahu, bengkel yang dilaksanakan itu telah pun mencapai objektif yang disasarkan oleh pihaknya.
Katanya, dengan bantuan INEE, projek yang dilaksanakan mereka mampu dilaksanakan.
Mengenai peralatan yang digunapakai oleh UniMAP, katanya, ia adalah lengkap dan menepati piawaian yang ditetapkan oleh pihak MARDI.
"Peralatan INEE UniMAP lengkap dan penjelasan yang diberikan oleh pihak INEE berkaitan pembuatan Nano cip telah memberikan pemahaman mendalam kepada kumpulan penyelidik kami," katanya.
Beliau juga melahirkan hasrat untuk mengadakan hubungan jangka panjang bersama-sama UniMAP dalam memantapkan penyelidikan yang menggunakan nano teknologi yang kini sedang diberikan keutamaan oleh negara.