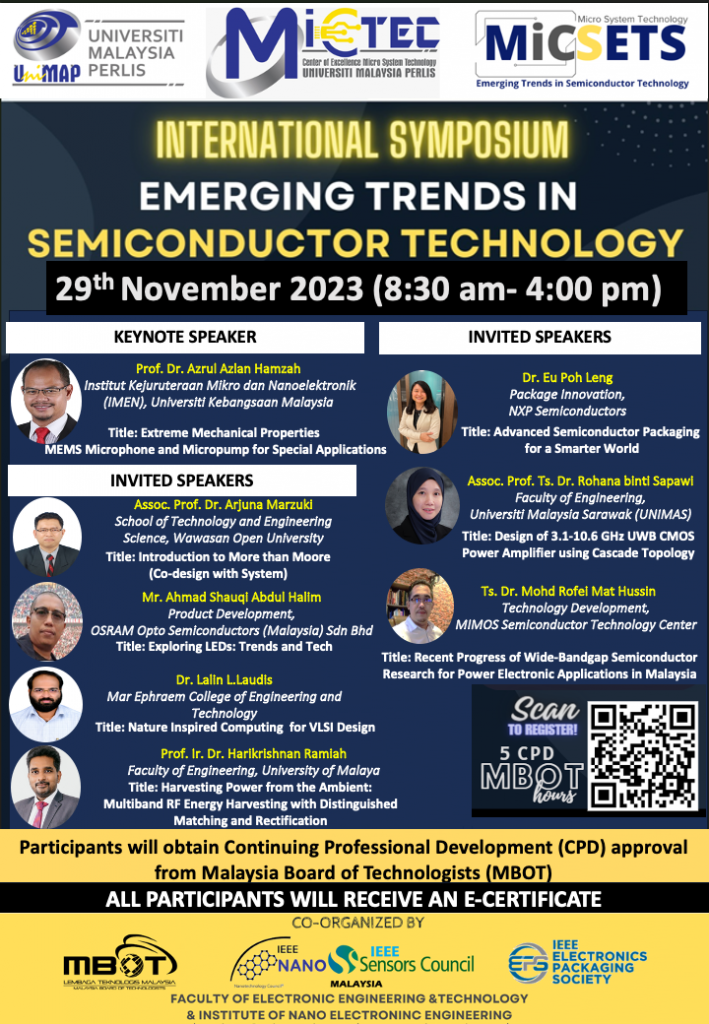 We are excited to announce our upcoming International Symposium on Emerging Trends in Semiconductor Technology (MiCSETS 2023) which will be held online on 29 November 2023. COE Micro System Technology (MiCTEC) is proud to host this symposium in partnership with the Faculty of Electronic Engineering, Institute of Nano Electronic Engineering (INEE), IEEE Sensors & Nanotechnology Council Malaysia, and IEEE Electronics Packaging Society.
This symposium aims to bring together fellow researchers, industries, academicians, scholars, professionals, and key players in related fields across the region to share findings and generate networking on this platform and it is FREE. The participants of this symposium are eligible to earn 5 hours of CPD MBOT (approved).
E-certificate also will be given to all participants. Kindly complete your registration at the following link:
https://forms.gle/sE2pK3RCbH1jWCSM7
Full program details and speakers: https://drive.google.com/drive/folders/1dB6G8uJgUo3Bj8q1VZIuANXLaSTJEEqv?usp=share_link
Your involvement in MiCSETS 2023 is highly valued.
Thank you.
-MiCSETS for MiCTEC Symposium 2023 Committe-
COE Micro System Technology
Universiti Malaysia Perlis (UniMAP)