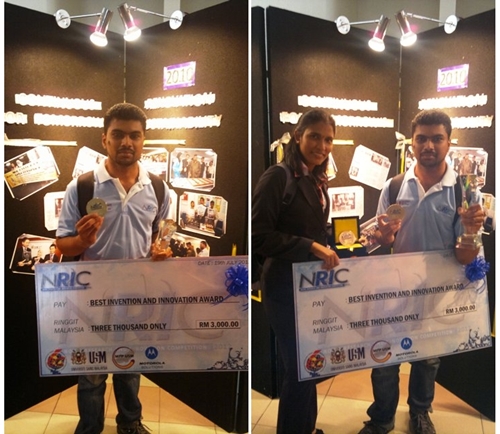 PULAU PINANG – Mahasiswa tahun akhir Pusat Pengajian Kejuruteraan Mikroelektronik, Universiti Malaysia Perlis (UniMAP) Sharma Rao Balakrishnan, mengondol pingat emas dan juga Anugerah Utama iaitu The Best Invention And Innovation dalam pertandingan Novel Research Invention Competition (NRIC 2012) yang diadakan di Universiti Sains Malaysia (USM).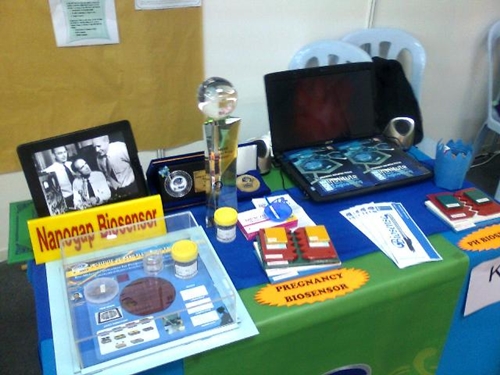 Bersandarkan kekuatan produk Bio-Molecule Detection Using In House Fabricated Microstructure Based Sensor, pelajar dibawah penyeliaan Prof. Dr. Uda Hashim dari Institut Kejuruteraan Nano Elektronik berjaya menarik perhatian juri yang terdiri daripada wakil industri untuk menilai kali kedua bagi mengesahkan status rekacipta tersebut.
Dengan kemenangan itu, beliau membawa pulang hadiah kemenangan sebanyak RM 3,000.00.
Dalam masa yang sama, seorang lagi mahasiswi tahun akhir daripada Pusat Pengajian Kejuruteraan Sistem Elektrik dengan rekacipta Automatic Meter Reading Using Radio Frequency (Rf) dibawah seliaan Encil Azuwa Ali Berjaya memenangi pingat gangsa pada pertandingan sama yang berakhir 19 Julai lalu.
Kedua-dua pelajar berkenaan merupakan wakili pasukan Envex Young Researcher Club (EYReC), UniMAP yang juga merupakan chapter kepada Malaysian Invention and Design Society (MINDS) bagi negeri Perlis.
Pertandingan kali ini yang membabitkan lebih dari 200 penyertaan turut disertai oleh beberapa universiti tempatan antaranya Universiti Kebangsaan Malaysia (UKM), Universiti Teknologi Mara (UiTM), Universiti Malaysia Terengganu (UMT), Universiti Sains Islam Malaysia (USIM), Universiti Teknikal Malaysia Melaka (UTeM), tuan rumah sendiri USM dan beberapa IPTA dan IPTS yang lain.
Majlis perasmian penutup dilakukan oleh Tan Sri Nor Mohamed Yakcop yang merupakan Menteri di Jabatan Perdana Menteri Malaysia.
Selepas ini, pasukan penyelidik muda UniMAP akan menyertai beberapa lagi pertandingan dalam dan luar negara. Antaranya Ekspo Inovasi Islam yang akan diadakan di USIM, Hong Kong Science Fair (HKSF) serta Korea Cyber International Genius Inventor Fair (CIGIF).
Menuruk Encik Razli Ahmad, Penolong Naib Canselor Hal Ehwal Pelajar dan Alumni, semua program yang disusun ini merupakan aktiviti pengantarabangsaan mahasiswa UniMAP yang disusun oleh Jabatan Hal Ehwal Pelajar dan Alumni bagi mendedahkan mahasiswa UniMAP keperingkat yang lebih tinggi.