Universiti Malaysia Perlis (UniMAP) terus mengungguli bidang penyelidikan negara dengan meraih anugerah khas tertinggi, Biotechnology Innovation Of The Year pada BioInnovation Awards 2014 yang diadakan di Pusat Konvensyen Kuala Lumpur (KLCC).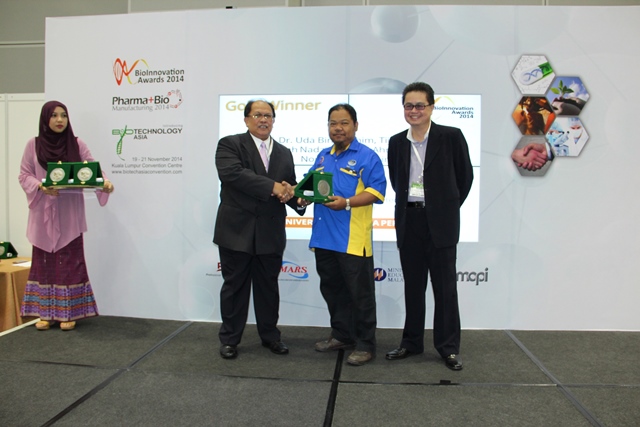 Anugerah diperolehi menerusi produk Nano DNA Chips for Early Detection of Cervical Cancer oleh Prof. Dr. Uda Hashim dari Institut Kejuruteraan Nano Electronik (INEE) yang melayakkan beliau menerima wang tunai RM 4000, trofi dan sijil penyertaan.
Menurut Prof. Dr. Uda Hashim, beliau sama sekali tidak percaya akan meraih anugerah tertinggi tersebut selain turut mendapat pingat emas dalam pameran tersebut.
"Saya amat bersyukur kerana mencapai sasaran bagi mendapat pingat emas tetapi saya sama sekali tidak menyangka akan memperolehi anugerah tertinggi ini.
"Ini merupakan satu penghargaan yang besar buat saya dan anugerah ini menjadi penutup penyertaan saya dalam pameran penyelidikan peringkat kebangsaan bagi tahun ini," katanya.
Tambahnya lagi, penyertaan beliau dalam pameran ini bukan semata-mata menyasarkan kutipan pingat sebaliknya beliau mahukan produk tersebut menjadi sebagai salah satu sumbangan bagi membantu masyarakat dan pengamal perubatan dalam pengesanan penyakit kanser pada peringkat awal.
Selain Prof. Uda, UniMAP turut meraih anugerah khas bagi kategori Most Promising Innovation menerusi produk Large – Scale Naturally Ventilated Tropical Greenhouse Structure For Commercial Harumanis Production in Perlis oleh Prof. IR. Dr. Rezuwan Kamaruddin dari Institut Agroteknologi dan seterusnya membawa pulang wang tunai RM 2000, trofi dan sijil penyertaan.
Malah produk yang sama juga turut menjadi penyumbang emas kedua UniMAP.
Pada penyertaan kali ini, UniMAP turut meraih empat perak dan lapan gangsa serta tempat ketiga pertandingan rekaan booth bagi kategori Bare Space.
Naib Canselor UniMAP, Brig. Jeneral Datuk Prof. Dr. Kamarudin Hussin berkata, pameran ini adalah pameran yang sengit di mana cara penjuriannya adalah lebih tegas dan terperinci.
"Produk yang kita pilih untuk mewakili UniMAP adalah produk-produk yang terbaik tetapi mungkin faktor pengalaman yang memisahkan mereka dengan kejayaan. Kebanyakan penyelidik UniMAP kali ini merupakan penyelidik yang baharu pertama kali menyertai pameran sebegini.
"Namun pemilihan mereka adalah berdasarkan kualiti produk yang dihasilkan dan saya percaya mereka telah mendapat pendedahan yang secukupnya sebagai persediaan bagi pameran yang lebih besar pada tahun hadapan," katanya ketika dihubungi selepas keputusan pameran itu diumumkan.
BioInnovation Awards 2014 dianjurkan bersama dengan Biotechnology Asia oleh Malaysian Association of Research Scientist 2014 (MARS) dan Professional Trade Exhibition and Meeting Planners (PROTEMP) bermula 19 hingga 21 November 2014.
Sumber: Laman Web Rasmi UniMAP