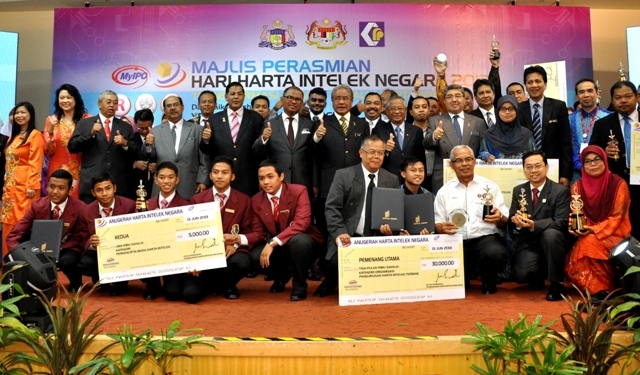 Prof. Dr. Uda Hashim won the second place of the National Intellectual Property Award 2013 (AHIN 2013) for Patent Category recently.
The prestigious award was organized by the Ministry of Domestic Trade, Cooperatives and Consumerism (KPDNKK) and the Malaysia Intellectual Property Corporation (MyIPO) was held in conjunction with the National Intellectual Property Day 2013 at 13 to 15 June 2013 in the Malacca International Trade Centre (MITC).
Prof. Dr. Uda which produces a Kit For Pregnancy Detection Using a Biosensor has received a cash prize of RM7,000.00, a trophy and a certificate of appreciation from the World Intellectual Property Organization (WIPO)-MyIPO.
A Kit For Using A Biosensor Detection Pregnancy is the result of technological innovation research UniMAP's patented in 2012, and developed to detect pregnancy at an early stage for clinical diagnosis.
The program, themed "New Sources of Wealth of Intellectual Property" was designed to give recognition to the inventors and creators of intellectual property intellectual property of their contribution in social and economic development of the country.
The first place belongs to researchers from Universiti Teknologi Malaysia (UTM) with the M-contactor products: Smart Membrane for CO2 Removal and whereas the third place goes to an individual from Alor Setar with the product Two-In-One Machine For Paddy Site Preparation.
Prof. Dr. Uda said, he is grateful for the awards received and intends to further research work for the benefit of society and the organization.