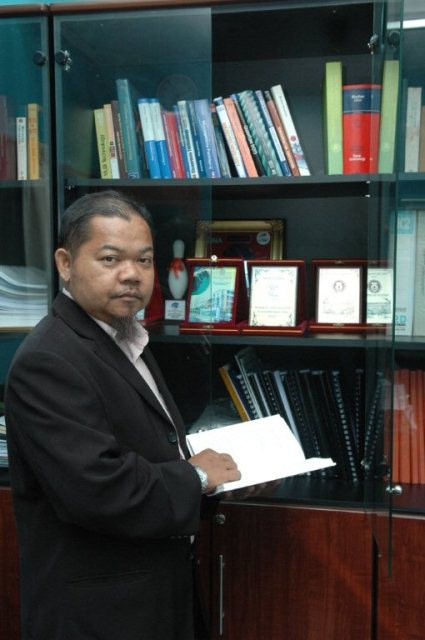 KANGAR, 28 Nov: Pengarah Institut Kejuruteraan Nano Elektronik (INEE), Universiti Malaysia Perlis (UniMAP), Prof. Dr. Uda Hashim terpilih untuk menerima anugerah Hadiah Laureate Sains dan Teknologi ISESCO 2012 daripada The Islamic Educational, Scientific and Cultural Organization (ISESCO) pada 20 November baru-baru ini.
Anugerah tersebut adalah bagi menghargai sumbangan besar beliau dalam bidang teknologi khususnya teknologi nano dan bakal meletakkan nama beliau sebaris dengan "ISES Science and Technology Laureate".
Anugerah ini disampaikan oleh Prof Khamis Kajo Kunda, Menteri Pengajian Tinggi dan Penyelidikan Saintifik Sudan, sempena Sixth Islamic Conference of Ministers of Higher Education and Scientific Research yang berlangsung di Khartoum, Sudan, pada 20 hingga 21 November 2012.
Sebanyak 88 pencalonan telah diterima oleh pihak penganjur dari negara negara anggota OIC, tetapi hanya empat penerima telah terpilih untuk memenagi hadiah Laureate pada tahun ini yang mewakili bidang masing-masing iaitu dari Pakistan untuk bidang Matematik, Jordan untuk bidang Biologi, calon Azerbaijan untuk bidang kimia dan Prof Dr Uda dari Malaysia untuk bidang teknologi.
Bagi Prof. Dr. Uda, anugerah tersebut merupakan satu penghargaan yang besar bukan sahaja bagi beliau secara peribadi, tetapi ia juga sekaligus dapat mengharumkan nama Malaysia amnya dan UniMAP khususnya di peringkat antarabangsa.
Ini merupakan petanda awal yang Malaysia khususnya UniMAP mampu untuk melahirkan calon nobel laureate pada masa akan datang. UniMAP sedang dan akan merangka beberapa perancangan untuk mencapai impian dan hasrat ini.
"Saya berasa bersyukur dan berbangga kerana hasil sumbangan penyelidikan kita semakin mendapat tempat dah diiktiraf di peringkat antarabangsa sebaris dengan penyelidik-penyelidik barat.
Harapan saya, semoga lebih banyak lagi hasil penyelidikan penyelidik Islam khususnya dari Malaysia akan diiktiraf pada masa akan datang," katanya ketika dihubungi.