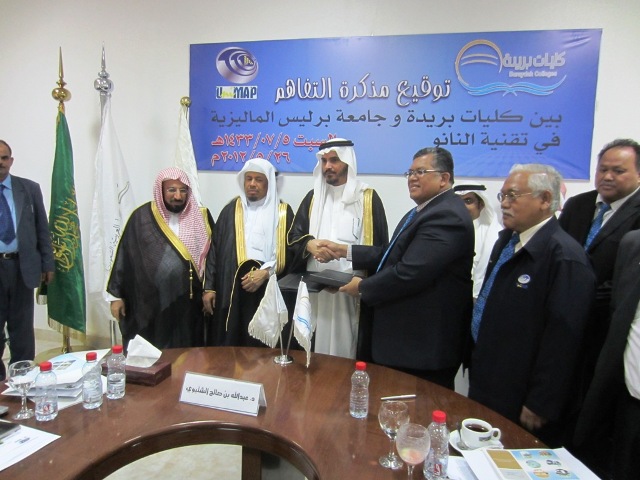 Universiti Malaysia Perlis (UniMAP) has forged strategic cooperation with three universities in Saudi Arabia to empower the fields of nanotechnology, biomedicine and microelectronic engineering.
The signing of the memorandum of understanding (MoU) with Buraydah College was held at a ceremony, two days ago, at the institution which is located in Buraydah, the administrative city of the Al Qassim province.
UniMAP was represented by Vice-Chancellor Prof Datuk Dr Kamarudin Hussin while Buraydah College was represented by Chancellor, Dr Abdullah Al Shetaiwi, at the signing.
The event was witnessed by Malaysian Ambassador to Saudi Arabia, Datuk Syed Omar Al Shagoff, and UniMAP board of directors chairman Tan Sri Dr Zainul Ariff Hussain.
Dr Kamarudin said UniMAP chose Buraydah College as it was regarded as capable of forming and outlining an academic and research partnership which would develop its microelectronic engineering curriculum, especially in nanotechnology.
The partnership also includes an exchange programme involving students and staff.
Buraydah College, which was established in 2009, is the best private higher learning institution in Al Qassim which focuses on core fields such as engineering, medicine and pharmacy.
"This is the best move to make UniMAP competitive and known at the international level, which includes specialising in nanotechnology," said Dr Kamarudin here today.
UniMAP and Buraydah College will work to develop an academic curriculum for nanotechnology, as well as turn UniMAP's laboratory as a centre for training and practical students.
Meanwhile, UniMAP also fostered a relationship with the King Saud University (KSU) in Riyadh with focus on cooperation in the same fields.
KSU is among the best and oldest universities in Saudi Arabia.
The MoU finalising the partnership took place in Riyadh, and as a result, UniMAP will begin a biomedicine programme in September this year, or early next year.
Dr Kamarudin said KSU had also agreed to collaborate on research in optics, which will be headed by the Dean of UniMAP Research Management and Innovation Centre, Prof Dr Syed Alwee Al Junid Syed Junid.
Another Saudi Arabian university, the Al-Farabi College in Jeddah, has expressed interest in working with UniMAP to develop the engineering and biomedicine curriculum.
Both parties signed a letter last week, stating intent for a partnership. – Bernama